s you safari in Jungle Drums Gallery, prepare to experience an unforgettable collection of wildlife art. Serious collectors as well as admirers of beautiful art will be impressed with a broad diversity of work and price range.
From life-size bronze sculptures to elegantly crafted jewelry, each piece offers something different. The gallery is more than a place to buy art; it's a visual delight to experience and a refuge to appreciate the tremendous diversity of wildlife.
A stunning variety of art mediums is presented that includes bronze, copper, wood, glass, clay, original paintings, limited edition prints and more. Our drums are beating out a message of environmental conservation as well as appreciation of the arts that we hope will be heard far and wide.
- Owners/Artists Kathleen & Jim Mazzotta
An artful menagerie thrives in our Captiva jungle where you'll find rooms full of eye catching creations from local, national and international artists.
Follow Jim Mazzotta on INSTAGRAM as we post our latest artwork. Click on pix at right.
AN AWESOME ART EXPERIENCE ON CAPTIVA ISLAND
Contact us at 239-395-2266
or email us at jungledrumsgallery@comcast.net
GALLERY HOURS
TUESDAYS - FRIDAYS 11:30 - 4:00 PM
The Three Wise Nuts await your visit!
Hurricane cleanup is now over and we are OPEN.
It will take some time for the Islands to get back to normal but while that is happening we will be here!
Depending on local conditions and island access, our hours may be limited at times. Call us for the latest information and our most current hours of operation. Please be respectful as all of us are working hard to return to normal.
You can follow Jim Mazzotta on Instagram above for our very latest artwork. You can also communicate with us via email or Instagram.
COCONUTS RESTING ON AN OPEN CHAIR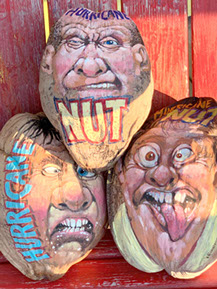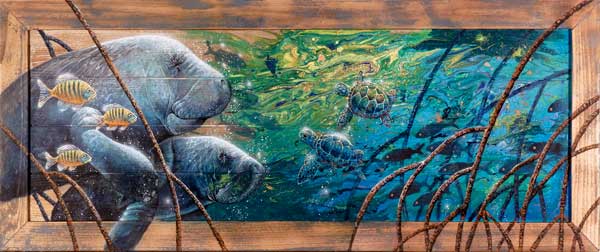 MANGROOVIN' TABLE
One of our latest efforts is a 4 foot long rustic table featuring manatees and turtles. Our technique includes a lot of airbrushed acrylic paint along with standard brush work to tighten up edges and detailed areas.
Metallic paints and other refractive materials are used in strategic areas to enhance the illusion of shimmering water. The table top has a rough finish which adds to the depth and texture of the final painting. A final coat of gloss polymer epoxy coats the art which gives the piece the ultimate underwater look.
Kathleen airbrushes soft tones on swimming baby turtles.
Jim adds detail to mangrove roots jutting out from the main art giving the image a stronger 3D effect.
The final Mangroovin' table top ready for its closeup! It features 2 hand carved drawers.
Available for $3800. Measures 40" long x 16" wide x 31" tall.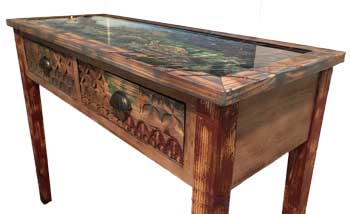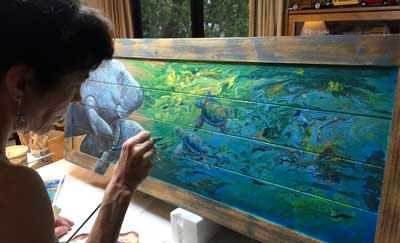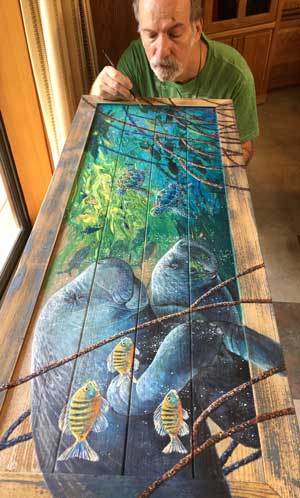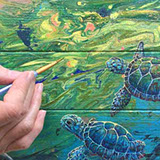 In between digging out home and gallery after Hurricane Ian, Jim did manage to create a new tee shirt design. We are all determined to recover from the storm impact and a bit of humor and charity will help. 30% of all sales will go to the Florida Disaster Fund to help victims of the storm. Hammer Time is available in several styles and colors so click on the links BELOW and help us bring back some sunshine and happiness to Florida!